ELIGENDO Direct Search.
Market forces or the company situation often require a specialised procedure in personnel recruitment. ELIGENDO Direct Search provides the possibility of identifying capable candidates in a targeted way, approaching them discreetly and presenting them to the client.
Recruitment expenditure is kept to a minimum for the client. The interplay between personal performance prerequisites for candidates, requirements of the target position and the client's expectations are ensured. The search process is effective and tailored to the specific requirements of the client and market.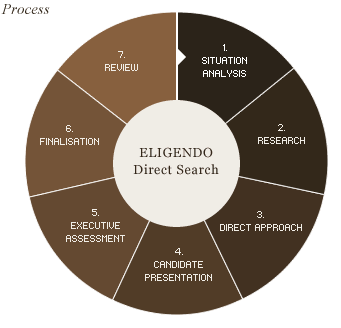 Benefits
Targeted and systematic approach also of executives, who are not in search of a new job
Preserving full anonymity in the first stage of recruitment
Support of your Human Resources department
Preselection of qualified candidates
Certainty of decision due to professional clarification of qualifications and of employment conditions